What Do Autumn Colors Mean to You?
Oct 14, 2020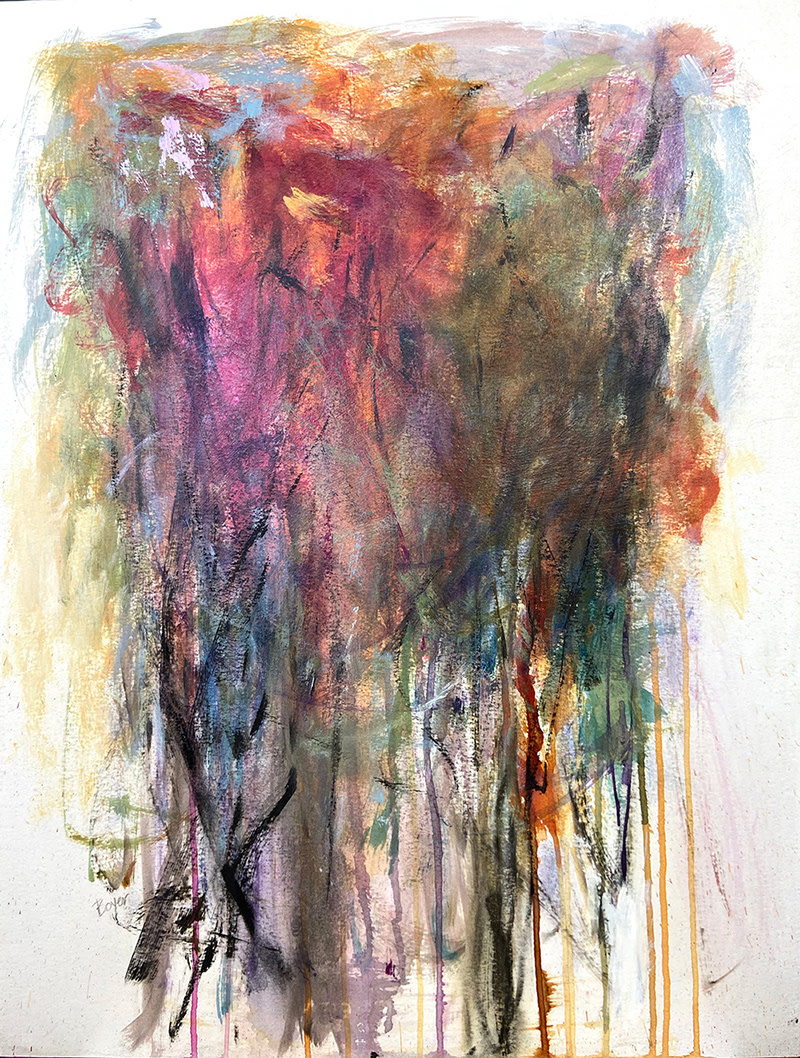 Contemplating Grace, 24 x 18 x 1.5 inches, acrylic and graphite on Arches paper, mounted to cradled panel board, ready to hang.
It's here again. That time when I am astonished by the delicacy and grace and beauty of backlit trees in autumn. I know I'm not alone in that feeling.

I hike in the mountains, or I walk through the woods of a nature preserve nearby, and I feel a stirring, a yearning of deep and poignant emotions.

It's enough to make me research and read about the symbolism of autumn, because it's that powerful. It's not just about dying. That much I have always sensed. But what else is it?
Change, self-reflection, awareness.
Mystery, preservation, protection.
Comfort, balance, mindfulness.
And letting go. Always, the letting go.
It's funny how sometimes (most times?) we feel something before we know it. But how do I say it when words, or even a photograph or realistic rendition won't do? How do I communicate it and connect with other souls who feel it, too?
For me, the answer is expressive, semi-abstract, or abstract art (also called "non-representational"). My emotions speaking to yours, through color, line, rhythm, movement, shape, and maybe a little grace. You feeling it and adding your own because of your story.
I think in terms like these:
Vertical, arcing, crisscrossing lines of burnt umber.
Earthy dark and mid-tone sap greens, punctuated by brilliant lime.
Indian yellow glowing from behind.
The beating heart of alizarin crimson.
Transparent colors—only those can capture the glow and hint at what's going on here.
They show the veils of lives past.
The need to hang onto the glory of now.
The mystery of what might come.

These are the things I think about. Dream about.
Because, yes, I did dream about painting this last night.
Some people have stress dreams. I have painting dreams.
I'm not the only artist who does.
But I'm the only artist who can capture mine.
Something about the brilliance of autumn colors—the last hurrah before cold stillness—gets me every year.
And I'm brought back every time it does, to this: I am contemplating grace.
The beauty and grace of these dying leaves in their brilliance, in their fragility, even in their last stages of ugliness. There's a profound lesson in that.
I hope you're doing well and enjoying the beauty of autumn in your own way.

Until next time,