New Places, Outside and In
Feb 01, 2018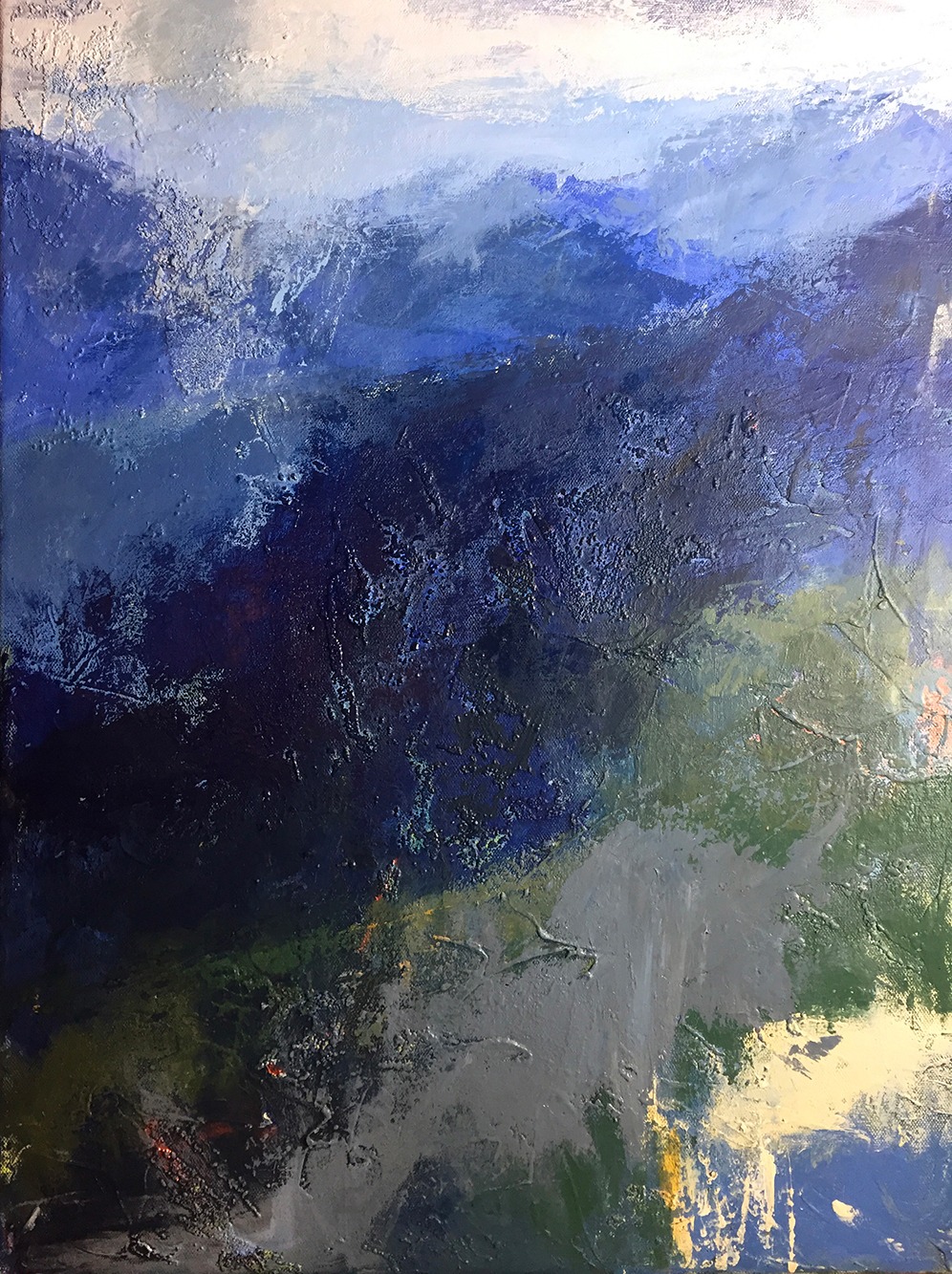 I mentioned in a previous post that I'm working on a series about a solo cross-country road trip that I took, where I camped in national parks and began to find myself again after losing my husband to brain cancer. To say it was life changing is an understatement.
I also mentioned that I'd begun three or four paintings and then became completely blocked. The creative process knows what it needs, and it insists upon having its way. I've learned over the years that to fight it only leaves me bloody and beaten, so I have come to a place of respect — almost reverence — of it and its power. I honor it now. I backed off and rested and assimilated, and after being nurtured the way it needed, it came back, stronger than ever.
One of my most moving experiences on the trip was driving on the Blue Ridge Parkway. My father's side of the family comes from North Carolina, and I've felt a calling to go back and reconnect that half of myself in the places I so fondly remember from childhood. I visited family in the coastal plains and Piedmont regions and thoroughly enjoyed it. But the mountains called as well, and my Uncle Billy was the one who suggested I drive the Parkway after my visit with friends in Asheville.
I wasn't the safest driver, because I kept gaping at the scenery, at those vast, seemingly unending stretches of mountains in all their mysterious glory, fading into ever paler colors and eventually into what seemed like smoke. There is no way to accurately describe the beauty and power of those vistas, but I was deeply stirred.
I tried to capture those stirrings in a couple of paintings, but I kept leaning on safety and depicting things too realistically, so, to me, the paintings lay flat. Nothing can possibly capture the vistas like the vistas themselves, so, I took a few deep breaths, put on a jazz CD by a brilliantly talented friend named Mike Effenberger and his band Weird Turn Pro, and let the paint do what it wanted to do.
The music helped me break through. I felt I had finally been able to express the impact of those mountains on me. In another post, I will have to write about how integral music is to my process and why, but for now, I'll leave it that the connection between what I was listening to and what I painted was even closer than I thought. After I finished the painting, I took a look at the song titles on the CD. The first was called "A Cloud from Above." I looked at the painting, saw the cloud in the top left (never intended), felt how that's exactly what had been going on for me in my grieving process at that time, and knew that's what the title of the painting had to be. I can't end without mentioning, though, that the vistas in the painting carry a hope and a strength, a light through the darkness, much stronger than that cloud. The Parkway will forever be a go-to place for me.