Exciting News (and How Art Deepens Our Experience)
Mar 07, 2023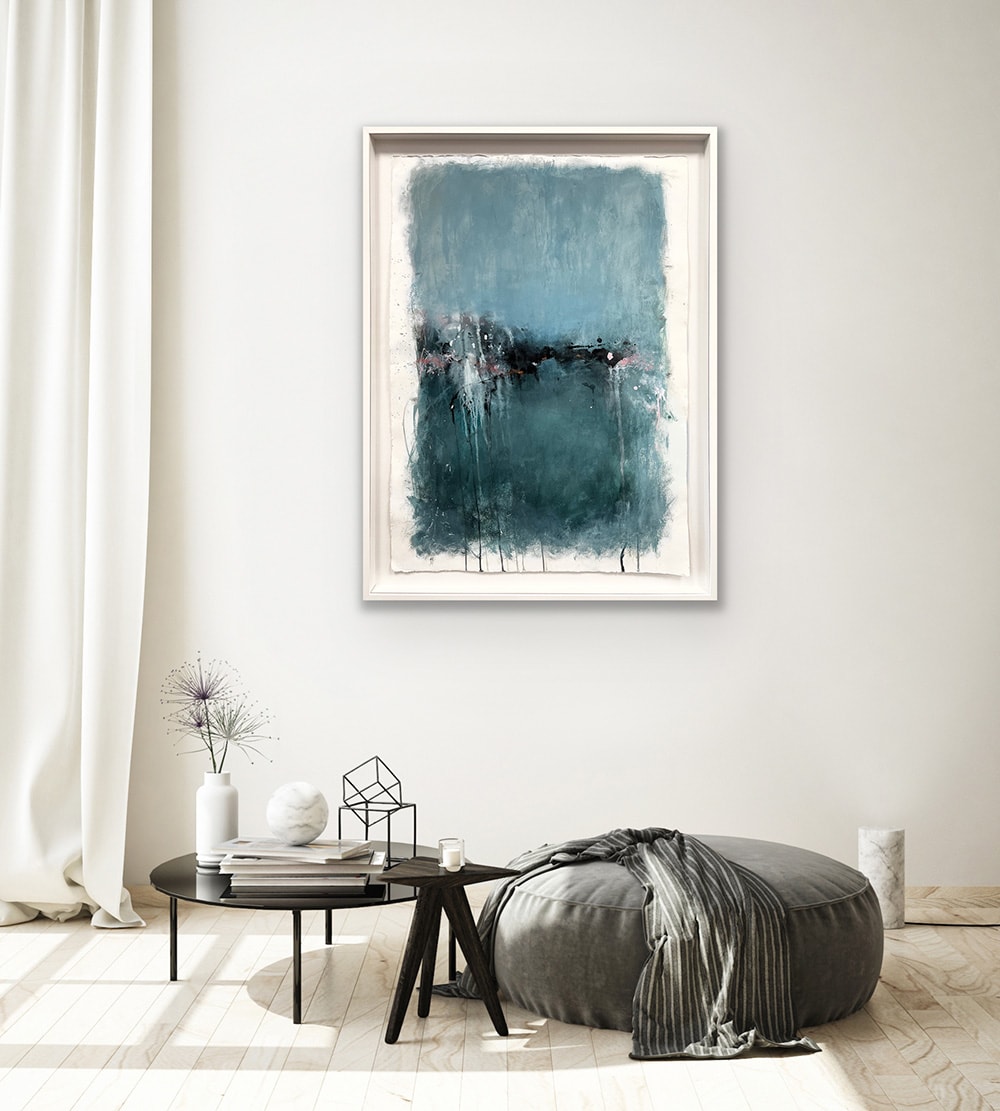 Are there some paintings that grab hold of you and just won't let go? If so, do you pause and ask yourself why?

I'm guessing it has to do with remembering an emotional experience. A place you visited that took your breath away, maybe. The color of a favorite flower. The way light danced on water or walls or a lover's face.

Or maybe it's something you can't yet quite conjure or make sense of, but what you feel when you look makes you want to keep coming back.

The possibilities are endless, and a work of art can bring that deep stirring up in us like nothing else I know of.

The story behind the painting ... and my process

This is one of those pieces for me. I painted it last October, when rains and wind kicked up and had a heyday.

I was feeling the melancholy that can pervade in that kind of autumn weather. But something else was going on, too. A tug of hope, maybe. A sweet hint of silver lining that illumined the gray.

When I feel that kind of tension between two juxtaposing forces, I know I have to explore what's going on, make some kind of sense and meaning of what I'm feeling. Not all artists do this. Not all artists "get" this. But it's essential for me and my process.

I knew the piece had to be big. I wanted to feel immersed in it. So I laid a piece of BFK Rives on the floor--it is an exquisite, archival paper that has weight and gorgeous deckled edges--and I began.

I took out a fat, water soluble wax pencil known as the Stabilo Woody and wrote down a poem by Audre Lorde entitled "Coping":
It has rained for five days
running
the world is
a round puddle
of sunless water
where small islands
are only beginning
to cope
a young boy
in my garden
is bailing out water
from his flower patch
when I ask him why
he tells me
young seeds that have not seen sun
forget
and drown easily.
On my hands and knees, I covered the words with layers of color and shapes and marks.
Every story needs tension ... and so does every painting

I could tell you how doing this brought about my own flash of memory: me at six years old, walking home from school by myself in pouring rain. Little pink slicker (at least I think it was pink) with the hood pulled up. Rubber rainboots over my shoes. How I lifted my face to the rain. Loved the way it felt. Opened my mouth to drink some in. Licked wet strands of hair. Stomped in puddles. Relished in how the water splashed up over my legs and down under the rim of my boots.

But also the tiny surge of panic when my mother opened the door, and I was afraid she'd be angry at how late and soaked I was. (I'd received many reprimands before--I was a kid who lived in her own inner world and had a different sense of time than others--and so I stiffened in preparation.)

Instead, she gently whisked me in. Dried me off with a thick, soft towel. Warmed me with a change of clothes.

How quickly life can shift from joy to fear to the surprise of comfort ... and love. How quickly one gesture can change a person's perception of that life.

Awakening ... deepening ... appreciating

Somehow, that memory was triggered by the poem and what I painted, and not only did I relate more closely to the boy who protected his flower seeds in Audre Lorde's story, I also awakened in a new way to the deep—and sometimes obstinate—vein of hope at the core of my being. It has steered me, shaped me. There have been circumstances in my life, frankly, where it easily could have been drowned or snuffed out. Yet somehow, it has persisted, ever so quietly, patiently, and guided me on my way. I developed an entirely new appreciation for it.

What story and feeling might this piece bring you?

My story is mine, of course, and when I offer a piece to the world, it means viewers weave their own into it.

When I brought it to the framer, for instance, she stopped and looked for a few seconds in silence. And she kept doing so as we discussed how best to let the painting say what it needed. Finally, she said, "You know, I don't usually like abstract art. But this painting ... I can't quite put it into words ... it's very moving."
I smiled and thanked her. Said that if it connected with her in such a way, the painting was serving its purpose, and I was grateful.

And now, for the exciting news ...

It Has Rained for Five Days Running is part of a series I'm calling IN THE DEEP, which explores and give voice to what is all too often washed away when it comes to women in the arts. (The pieces are also about more than that, of course, but it's the common theme that runs through them all.)

Recently, I entered this piece into a national competition to celebrate Women's History Month. Out of 560 submissions from across the country, 66 pieces were chosen, and mine was one of them. I am honored, humbled, and yes, excited.

On Friday, I drive down to Norfolk, VA, to drop it off at d'Art Center for installation (to my chagrin, it would have cost more than $1000 to have a box made and ship it there and back, so a road trip it is).

On March 24, I fly down for the opening reception.

The show is called Persistence V, and if you're near the Norfolk area, I hope you'll get a chance to stop in and see the show, which runs from March 18–April 11. If you can make it to the reception on the 24th, I'd love to see you in person.

Here are a couple of photos of It Has Rained for Five Days Running in its frame--it is gorgeous!--and of me with it at the shipping center—before I discovered how much it would cost. (Thank goodness I enjoy road trips.)

Here's to us all living a deeper, richer, and more meaningful life,

Dawn
P.S. Here are the details for the show:
Persistence V: d'Art's Annual All Women's Exhibition in Honor of Women's History Month
d'Art Center, 740 Boush St. Norfolk, VA
Telephone: 757-625-4211
Exhibition: Sat. 3/18/23–Tues. 4/11/23
Main Gallery Reception: Friday, March 24th 5:30–7:30 pm